Back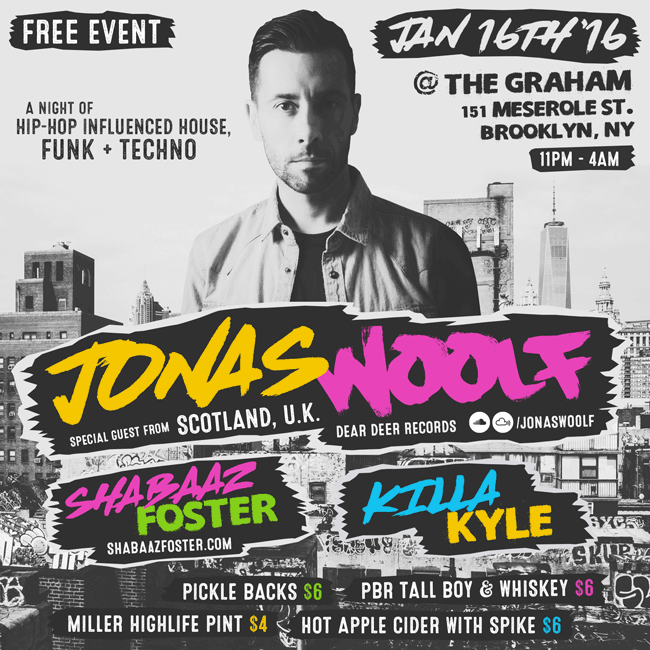 Jonas Woolf (UK) + Shabaaz Foster & Killa Kyle (NYC)
We have a very special guest and ally of mine, JONAS WOOLF, coming in from the U.K. to deliver us some of his uplifting, soulful and hip-hop influenced house and tech-house at The Graham in Brooklyn on January 16th, 2016.  Along with yours truly on the decks and KILLA KYLE, you've got a winning combination of 120-130bpm that just will not disappoint! With cheap drinks and awesome beats, you can't go wrong with this FREE late-night event.
OPEN FOR ALL HOUSE AND DANCE MUSIC LOVERS ALIKE!
Located at The Graham Brooklyn
151 Meserole Street, Brooklyn, New York 11206
(at Graham Ave. & Meserole St.)
Saturday, Jan 16th, 2016
Starts 11pm – 4am
FREE Event!
JONAS WOOLF (Dear Deer Records, U.K.) –
http://www.mixcloud.com/JonasWoolf/
http://soundcloud.com/jonaswoolf
SHABAAZ FOSTER (Boutiq Muzik, Queens, NY) –
http://www.shabaazfoster.com/
http://soundcloud.com/shabaazfoster
http://www.boutiqmuzik.com/
KILLA KYLE (Chicago, IL/ Brooklyn, NY) –
http://www.boutiqmuzik.com/
RSVP on the Facebook event page – http://on.fb.me/1OBtE8S
ResidentAdvisor.net Event page – http://bit.ly/1kJelPm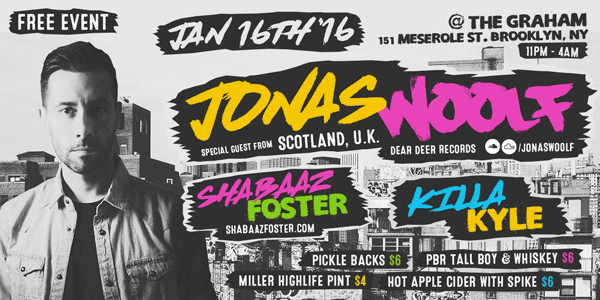 Prev Post
Next Post
Back to Top